Daily itinerary
7:30am – Wake up bell
8am – Morning affirmation walk
8:30am- Wake up yoga exercises or meditation
9am – Fruit and muesli breakfast
10:30am – Therapeutic yoga class
1pm – Salad lunch
2:30pm – Yoga Nidra (relaxation) class or bushwalk
3:30pm – Free time for gym, sauna, spa, pool etc
6pm – Vegetarian dinner
7:30pm – Meditation
8:30pm – Herbal tea
10pm – Retire
The Hotel: Swami's Yoga Retreat
Yogis of all experience levels head to Swami's Yoga Retreat. Located on 60 acres of bushland, the property offers an idyllic and peaceful setting for retreats conducted by close friends and family of Swami Sarasvati. During your stay, follow her unique brand of holistic yoga meditation designed to soothe all physical and spiritual woes. In addition to the yoga and meditation classes, take part in a range of other activities like tai chi and bush walks round out the retreat.
Meals are freshly prepared daily throughout the retreat, with a focus on delicious, healthy, vegetarian food, and guests can make use of the facilities like the pool, spa, sauna, gym, and tennis court during their stay. Optional wellness programs are also available, including stress management, weight management, lifestyle modification, and quitting smoking. Take your relaxation a step further with a massage and facial.
Room Details
Single room
Single bed
Standard occupancy: One person
Maximum occupancy: One person
En suite bathroom, heating, ceiling fans, linen and towels provided, non-smoking
Twin room
Two single beds
Standard occupancy: Two people
Maximum occupancy: Two people
En suite bathroom, heating, ceiling fans, linen and towels provided, non-smoking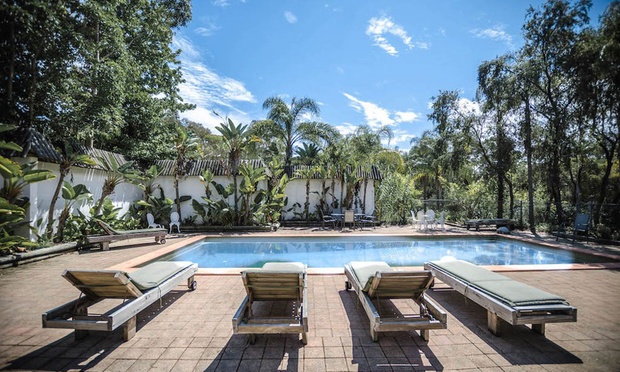 The Area: Hills District
The north-western suburbs of Sydney are generally termed the "Hills District" for their characteristically hilly topography and the fact that several of its suburbs have 'hills' in their names. Home to a largely residential area, it is charmingly family-oriented, with occasional semi-rural outposts as you get farther from the city. Enjoy being away from the hustle and bustle and immerse yourself in the peace and quiet, exploring the area with long drives and walks in native parkland.